Who We Are
Reardon Painting was founded in 1984 by Charles Reardon after he returned from being in the Army and moved back to his hometown of Bloomington, IN. His mission to serve didn't cease when he was out of the military. Over the next few years, Charles accumulated a wealth of knowledge and experience in addition to a growing list of satisfied customers.
Despite our past few decades of growth, Reardon Painting is still the same family-owned painting company from Bloomington, Indiana. We stick close to our roots and are proud of our unique history and providing the highest quality work.
Reardon Painting has been able to expand to provide additional services and new projects with the demand continuing to grow over the years. In order to handle the increasing amount of projects, the team has been able to continue to grow to be able to provide the services at the time you need them. Our services cover anything from a standard home renovation to a large-scale commercial project.
Over 30 years ago, our team was founded on the principles of quality, precision, and personal touch. We've been going strong for over three decades now and that tradition remains at the core of our business model.
We are and always have been professional painters. The Reardon Painting team delivers the unbeatable quality and unwavering customer service that we have upheld since 1984.
We can help you get the job done exactly how you want it. Let's work together to bring your paint dreams into reality.
Meet the Team
Charles Reardon, Founder & CEO
Charles Reardon was raised in Bloomington, Indiana. After being honorably discharged from the US military, he founded a painting company that's grown to become one of Central Indiana's most reputable providers. Reardon Painting is the manifestation of 30+ years of vision, determination, and down-right hard work on behalf of Charles. Even with these successes, he still has big visions for Reardon Painting moving forward.
Courtenay Smith, Wife & Business Associate
Courtenay Smith has been involved with Reardon Painting for the past seven years. She works side by side along with Charles in running the business end of things by preparing the quotes and invoices in a timely manner. She prides herself on making sure to deliver quality and provide the best customer service. Courtenay is originally from Chattanooga, TN, and has an MBA in Business Administration from Auburn University.
Reardon Staff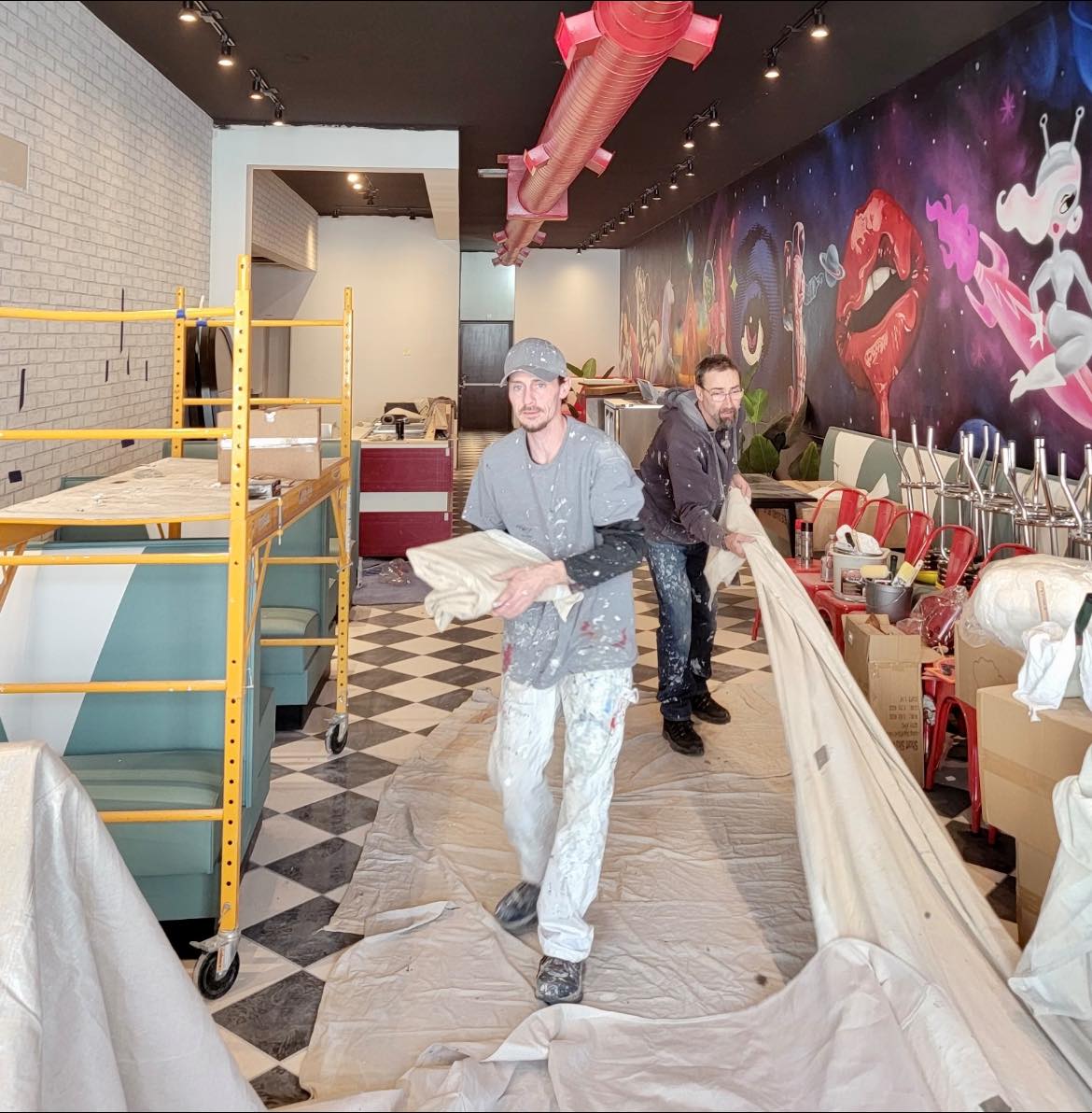 While other paint companies hire independent contractors to complete their projects, the Reardon Painting team is staffed with professional, full-time employees. We understand that quality and reliability is something that's developed and perfected over time. The professionalism that we bring to each project by the Reardon staff remains the driving force behind our success.
Why Choose Us?
We understand that you have many options when it comes to painting services in the Central Indiana area and we appreciate you considering the Reardon Painting team. We stand confidently behind our professional services with an unwavering dedication to quality.
We have amassed one of the most skilled and knowledgeable painting teams in the area. From Residential touch-ups to full-blown Commercial projects, we can handle any job that comes our way. Our professional painters understand that a great paint job requires a multifaceted approach and that's exactly the strategy we bring to every project.
Painting isn't just about throwing a stylish color up on a wall and calling it a day.
There's a lot that goes into a professional paint job behind the scenes including color matching, prep work, multiple coats, finishes, and the cleanup process. It's an intricate job but we love it.
In the past three decades, we've worked with clients from newlyweds getting settled into their new homes and homeowners upgrading to a larger property all the way to local shops and large businesses with national reach, the Reardon Painting team has done it all.
Although the projects may vary the Reardon Painting approach remains the same. We're always dedicated to quality, professionalism, and customer satisfaction. Our goal is to understand your vision, develop a shared goal, and execute with precision. We would be honored to help you bring your colorful ideas to life.
We use both Benjamin Moore Paints and Sherwin-Williams Paints depending on what best suits your needs.
Our Work
Don't just take our word for it. Take a look at some of the work we've done in the past.
John Waldron Arts Center in Bloomington

In January, the John Waldron Arts Center in Bloomington, Indiana reopened after being closed for almost two years. During this time, several repairs and upgrades were made. Reardon Painting is proud to contribute to the revitalization of this historical building that's served our community of artists and performers. Working late into the night, we sprayed the crown molding, ceiling, and walls with Pharoah's Gold by Modern Masters to bring out what the building represents – wisdom, extravagance, and prosperity.

Clean Slate: Interior Condo Painting

Reardon Painting just completed another Condo job at 319 16th Street in Indianapolis, IN. We used superhide flat Fog (PPG) for the walls and Regal semigloss OC-17 White Dove for the trim. Thanks to Bloomington Paint & Wallpaper for their superior service. Rubicon Construction does a phenomenal job with these condos!

Exterior Painting on Verona Park Spec Home

Reardon Painting was so happy to work on this beautiful spec home for the Verona Park Neighborhood. We worked with our great friends at Keystone Construction on this exterior project.
HOW TO REACH US
We are excited to hear about your project and will be happy to answer any questions! Give us a call at 812-287-1557 or fill out our contact us form